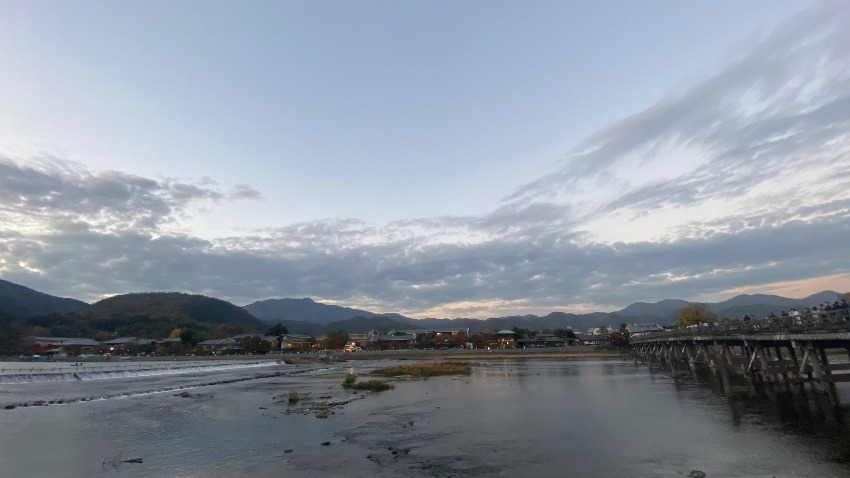 渡月桥 Togetsukyo
日本京都市著名景点岚山渡月桥近日迎来了红叶最佳观赏期。红色、黄色、橙色的枫叶染红了岚山,从渡月桥上望去,景色十分壮观。
Arashiyama Togetsukyo, a famous spot in Kyoto City, Japan, has recently seen the best time to see the red leaves. The red, yellow and orange maple leaves stained Arashiyama and the view from the Togetsukyo was spectacular.

人山人海 Amazing crowd!
早上8时一过,游客渐渐增多。此前被21号台风刮倒的栏杆也已经复原,许多人在桥上拍照留念。向渡月桥东北方向步行1.5公里,就来到了广泽池的湖边。满山的红叶倒映在水面,与水边的白鹭构成一幅美丽的画面。据岚山保胜会介绍,岚山周围的红叶将持续到12月上旬。
As soon as 8 a.m. passed, the number of visitors gradually increased. The railing that was previously knocked down by Typhoon 21 had also been restored, and many people were taking pictures on the bridge. A 1.5 km walk northeast of the Togetsukyo brought us to the lakeside of Guangze Pond. The mountain full of red leaves reflecting on the water surface and the egrets at the water's edge make a beautiful picture. According to Arashiyama Boshikai, the red leaves around Arashiyama will last until the beginning of December.